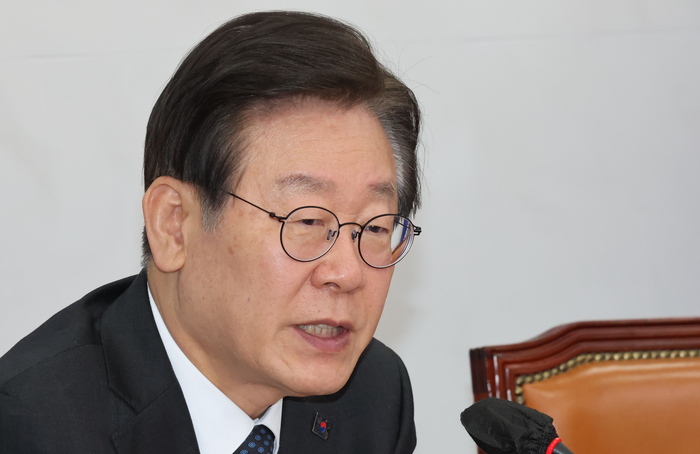 Lee Jae-myeong, the representative of the Democratic Party, requested an open policy dialogue with Kim Ki-hyun, the representative of the People's Power.
Representative Lee said to CEO Kim at the Supreme Council meeting held at the National Assembly headquarters on the 26th, "Eat and drink with friends," and "open policy dialogue is always welcome."
Previously, Kim Ki-hyun, representative of People's Power, revealed to the media that he had proposed a meeting between the ruling and opposition parties to Lee, but he refused. CEO Kim said, "At the memorial service for former President Roh, I sat next to him and said, 'Let's see your face. He said, 'Eat rice and drink soju,' and then (CEO Lee) said, 'People don't like to eat only rice.'"
In addition, CEO Kim said, "When we meet and talk, we talk about this and that, and if necessary, we discuss in detail, so I asked to talk while eating, but there was no answer." Since then, criticism has emerged that Lee rejected the ruling party representative's proposal for dialogue.
Representative Lee is in the position that practical policy discussion is needed instead of a 'political show'. "People's lives are so difficult. The economy is difficult, people's livelihood is difficult, and security is also in crisis. Diplomacy is even more serious," he said. "There are also situations where the people make extreme choices. However, in this situation, is it a big deal for politicians who have been entrusted with the entirety of the people's lives and the future of the country to show the people what they are doing and tip the glass of soju?"
In addition, he said, "I asked for discussions, debates, and conversations to create a better life, but I declined again. After that, he asked me to have a glass of soju at the event, and he was playing the media as if the opposition party was refusing to talk to the media."
Representative Lee openly proposed an open policy dialogue, saying that policy discussions between the ruling and opposition parties are necessary. Representative Lee said, "Eat and drink with friends. Open policy dialogue is always welcome," he said. "CEO Kim, do not decline. He said, "Let's not spare the government and the ruling party, but please engage in dialogue with the opposition party."
Reporter Gichang Choi [email protected]