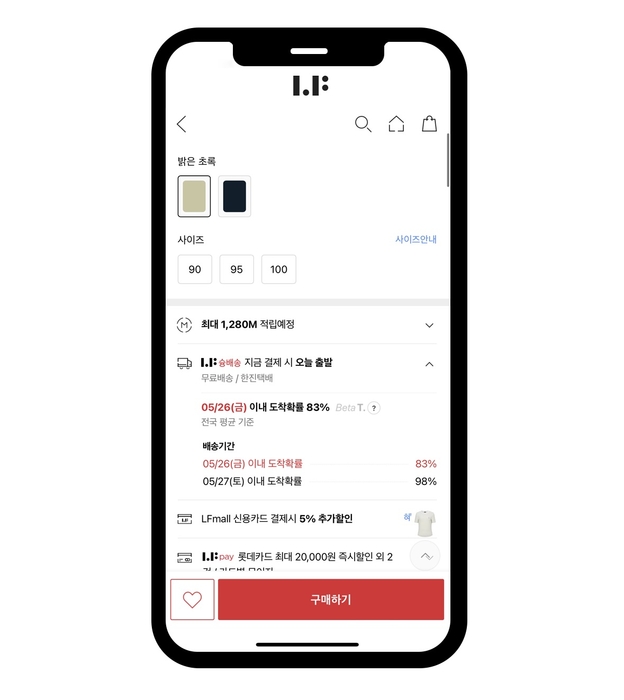 LF announced on the 26th that its own mall, LF Mall, recently introduced a 'delivery simulator' function and extended delivery convenience by extending the order deadline for 'depart today'.
LF Mall has recently introduced a 'delivery simulator' function to advance its delivery function so that customers can predict the delivery date in detail before purchase. The delivery simulator predicts the expected arrival date by analyzing delivery data for the last three months based on the delivery address set by the customer. In addition to the existing delivery data of the product, it provides guidance on the delivery date by comprehensively analyzing logistics data such as delivery address information.
It is expected that it will be a convenient function for customers who want to receive products on a specific date, such as an anniversary, as well as enhancing confidence in purchasing decisions through accurate delivery date guidance. Currently, it is applied to brands such as Daks and Hazzys that are shipped from LF distribution centers.
The cut-off time for 'Departure Today' orders has been increased from 3:00 PM to 6:00 PM. LF has previously provided a fast delivery service that "departs today" when payment is made before 3 p.m. for products that are in stock at the distribution center. In addition to applying a new naming (Shung Delivery) to help customers' intuitive perception, the customer delivery experience has been reorganized to be more friendly by extending the order deadline. 'Shung Delivery' is a naming chosen by the first-generation members of 'Nya Nyaz', LF Mall supporters, and concisely contains the meaning of 'fast delivery'.
Jae-Ik Lee, Head of CX Headquarters at LF Mall, said, "As 'delivery' is the most important area of ​​customer experience in online shopping, we want to provide high-quality delivery services by continuously adding advanced functions to the application (app)." plans to provide a more expanded app shopping experience while actively reflecting customer voices in service improvement through close communication with customers."
Reporter Park Hyo-joo [email protected]