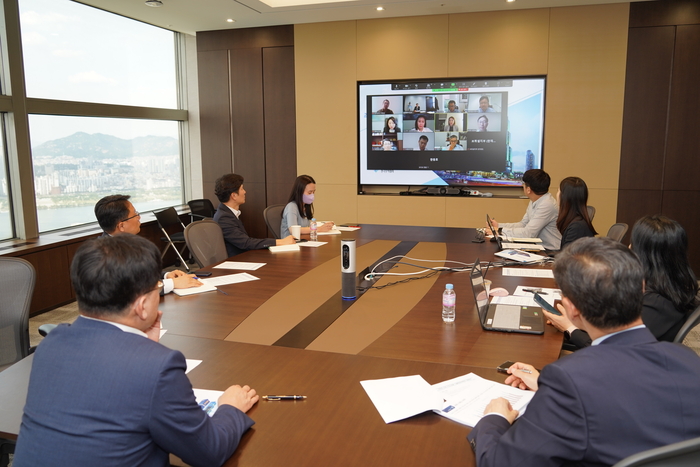 The Korea International Trade Association (KITA) announced on the 25th that it held an 'export strategy meeting for each major market' presided over by Vice Chairman Jeong Man-ki at the Trade Tower in Samseong-dong, Seoul.
In this meeting, heads of 10 overseas branches attended online and checked the status of exports to Korea by region. Corporate strategies and government suggestions for overcoming sluggish exports, such as resolving difficulties of export companies, were also discussed.
Vice Chairman Chung Man-ki said, "As exports to Korea decreased by 12.8% from the same period last year until May 23 this year, and the trade deficit widened to $29.3 billion, concerns are growing.
At the meeting, Je Hyeon-jeong, head of the Washington branch in the US, and Lee Jun-bong, head of the New York branch in the US, argued that in order to expand exports to the US, it was necessary not only to manage risks in the market for export items such as automobiles, but also to strengthen efforts to advance into green industries such as infrastructure, batteries and nuclear power plants.
Sin Seon-young, head of Shanghai branch in China, and Yun-seop Shim, head of Beijing branch in China, noted that demand for high-quality premium consumer goods continues to expand, with middle-class consumption in China surpassing that of the United States from 2020. Korean companies need to improve their awareness of the Chinese market and revise their strategies. advised to do
Martial Arts also diagnosed this year's import and export conditions and discussed ways to expand exports at the 'Economy and Trade Outlook and Entry Strategy Meeting by Major Market' attended by 10 overseas branches in February. In the future, we plan to hold regular meetings with overseas branches to check the situation in each major market and establish future response directions.
Reporter Yoon Hee-seok [email protected]