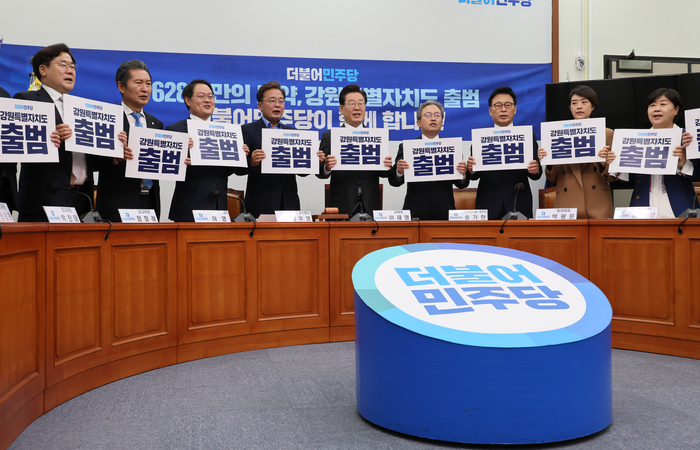 The Democratic Party of Korea held a commemorative event to celebrate the opening of the Gangwon Special Self-Governing Province era. Democratic Party leader Lee Jae-myeong emphasized that the establishment of Gangwon Special Self-Governing Province is just the beginning, and that he would spare no support in the future.
At the 'Gangwon Special Self-Governing Province Launch Ceremony' held at the National Assembly headquarters on the 26th, Representative Lee said, "Special sacrifices require special compensation." said.
At the plenary session on the 25th, the National Assembly passed the 'Completely Amended Act on the Special Act on the Establishment of Gangwon Special Self-Governing Province'.
The core of the bill is to guarantee a high degree of autonomy to Gangwon Special Self-Governing Province. In particular, the goal is to create a future industrial global city through free economic activities through regulatory innovation and efficient management of environmental resources.
In addition, it is characterized by the inclusion of special cases to improve the four major regulations: environment, forestry, national defense, and agriculture. Municipalities were handed over the authority to consult on environmental impact assessments, small-scale environmental impact assessments, natural landscape impact consultations, climate change impact assessments, and health impact assessments only for projects implemented by municipalities and private businesses.
It was also granted the authority to introduce a new forest use promotion district. In addition, the provincial governor was allowed to propose the designation, change, or cancellation of the civilian control line or protection zone, and to provide the current status of unused military land to the provincial governor. In addition, they were given the authority to designate rural vitality promotion districts and lift the agricultural promotion areas (formerly absolute farmland) within the promotion districts.
Representative Lee emphasized that Gangwon-do has made special sacrifices for the development of the Republic of Korea. Representative Lee explained, "Gangwon-do has made special sacrifices over the past 70 years, although there has been no fault or fault of its own due to the fate of being a border region."
"The important value of democracy is fairness, but it is true that Gangwon-do, which has made special sacrifices, was forced to make unilateral sacrifices rather than compensated," he said. true," he pointed out.
Afterwards, the Democratic Party emphasized that it would support the opening of the Gangwon Special Self-Governing Province era. Representative Lee said, "(Passing the revision of the Gangwon Special Self-Governing Province Act) is not the end, but only the beginning," and "The Democratic Party will do its best so that Gangwon Special Self-Governing Province can become an axis of balanced development."
Democratic Party lawmaker Heo Young, who proposed the bill as a representative, said, "(The Gangwon Special Self-Governing Province Act) is key not only to ask for authority, but also to take responsibility corresponding to it." Gangwon-do will continue the strengthening of the special self-governing province that started in Jeju. Gangwon-do will be a clear prescription for resolving the unipolar system in the metropolitan area."
Reporter Gichang Choi [email protected]