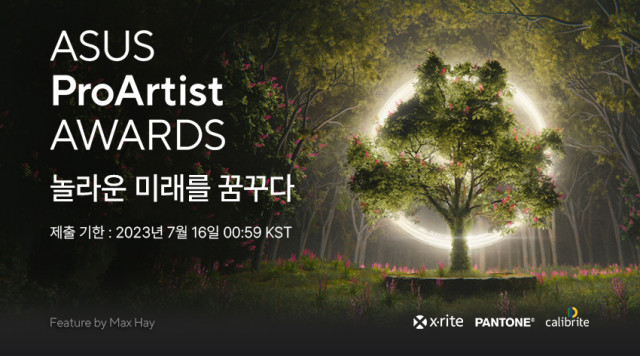 ASUS will hold the 'ASUS ProArtist Awards 2023' design contest
Seoul–(Newswire) May 26, 2023 — ASUS held the 'ASUS ProArtist Awards 2023 (ASUS ProArtist Awards 2023)' design contest.
◇ ASUS ProArtist Awards 2023
ASUS has been working for many years to collect important insights through extensive collaboration with designers and artists around the world, interact with the creator community, and give back the skills gained to add creativity. is a part
The 'Asus Pro Artist Award 2023′ is a global contest for creators, and is an event that aims to widely publicize artists through works full of potential and creativity, and anyone can participate. This year's theme is to showcase a sustainable future that reflects the importance of the environment, which is to reflect ASUS' hopes and aspirations for the environment by demonstrating building a healthier relationship with the planet.
In celebration of the launch of Spatial Vision technology, ASUS is looking forward to vivid worlds and expressions in amazing works that expand reality through imagination beyond the traditional boundaries and dimensions of the creator's artistic realm. Applications for works related to this award will be accepted until July 16, 2023.
Asus' Spatial Vision technology provides an immersive 3D experience without the need for 3D glasses. 3D images are realized through the harmony of vivid colors through the highest level of eye tracking system and OLED display. These technologies can further evolve the experience of entertainment areas that require creativity, such as visualization, 3D design, and video streaming.
The 'ASUS Pro Artist Award 2023' is divided into photography, graphic design, film, and animation fields regardless of medium, and a total of $60,000 is awarded. Prizes of $10,000 for first place and $5,000 for second place in each field will be paid, and the winning works will be promoted through the Asus website and social media. Also included are the opportunity to participate in ASUS 3D projects, PANTONE Formula and SkinTone guides, a one-year subscription to PANTONE Connect, Calibrite color calibration solutions and more. More information can be found on the Asus official website.
Asus Korea ProArt is a brand prepared for professional creators and aspirants in all industries. Through the ProArt series, which incorporates innovative design and cutting-edge technology, creativity-based stable work is possible, and your own originality and creativity-based results are created. He said that he could make it a reality, and he said he expects to have an upgraded portfolio through this award.
About Asus
Asus, one of the 'world's most admired companies' selected by Fortune magazine, is producing innovative products suitable for today's IT environment and products aimed at the smart life of the future. Asus continues to introduce total IT solutions, including PC motherboards, graphics cards, monitors, servers and workstations, and provides various products including virtual reality (VR), augmented reality (AR), and Internet of Things (IoT). have a portfolio Asus, which celebrated its 33rd anniversary in 2023, is creating innovative and perfect quality products with 16,000 employees and 5,000 world-class R&D personnel worldwide, and as of 2017, 4511 media awards. and generated $13 billion in sales.
Website: https://asus.com
This press release is news prepared and published by the contributor. The media can use this material for reporting. Newswire is committed to verifying the reliability and transparency of providers and eliminating content errors in accordance with editorial guidelines. If you have any issues with the press release, please let us know.
News providedasus