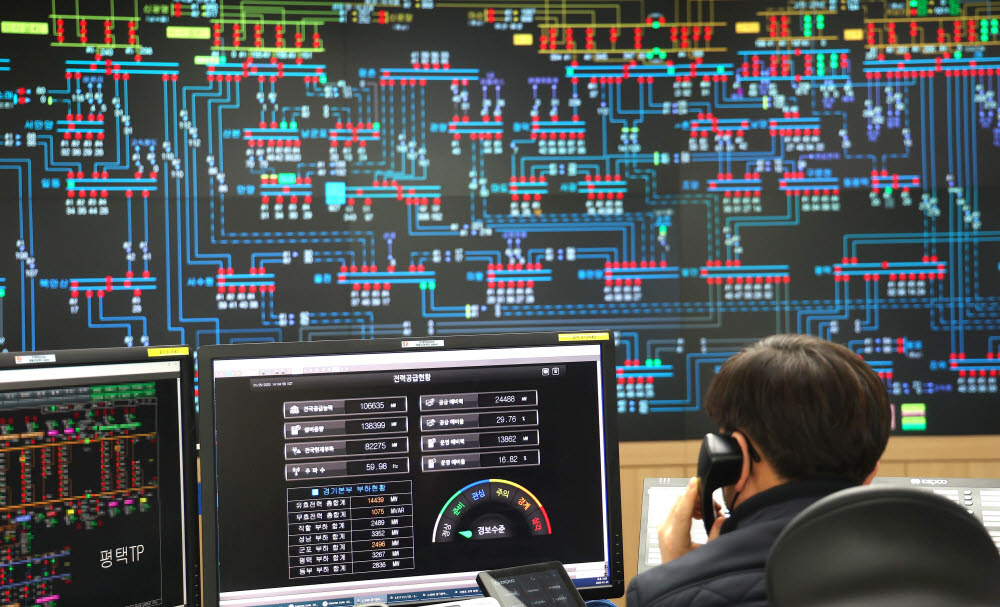 Amidst the strongest cold wave this winter, electricity demand is soaring. Despite the government's extensive energy conservation campaign, electricity demand is at an all-time high, requiring countermeasures.
According to the Korea Power Exchange on the 25th, the maximum power this week is expected to soar to 93,500 MW. If electricity demand soars as estimated, it will record the second highest power ever after 94,509 MW on the 23rd of last month.
Peak power refers to the power demand during one hour of peak power consumption during the day. It mainly occurs around 9 to 10 am or 4 to 5 pm, when demand for renewable energy is less offset by demand for heating and factory operations.
This week is a week with the Lunar New Year holidays, but the coldest weather this winter has caused electricity demand to soar. If it is the power exchange observatory, it will record the 1st and 2nd largest power generation side by side this winter. This is because even though the Ministry of Trade, Industry and Energy has been conducting the 'Energy Diet 10' campaign to reduce energy consumption by 10% compared to the previous year since October of last year, power demand soars momentarily due to a strong cold wave. Demand for electricity is rising every year, even though the effect of offsetting demand is expanding due to the expansion of renewable energy other than the electricity market, such as solar power for private use.
The Korea Power Exchange specifically predicted that electricity demand would peak on the 26th. This is because many industries are returning to work after the Lunar New Year holiday amidst the cold weather. By date, on the 25th, the maximum power is expected to reach 87,800 MW, and the operating reserve is expected to record 11.4%. In fact, at around 9:20 am on the 25th, instantaneous power demand recorded 86,481 MW, showing a trend similar to that predicted by the Korea Power Exchange. On the 26th, it is expected to record a maximum power of 93,500 MW and a reserve rate of 11.3%, and on the 27th, a maximum power of 92,500 MW and a reserve rate of 13.5%.
Even though electricity demand has risen to the highest level ever, the reserve ratio is expected to remain stable thanks to preemptive securing of supply capacity. The Ministry of Trade, Industry and Energy and the Korea Power Exchange have secured stable supply capabilities by expanding the operation of nuclear power plants and early operation of coal power plants. Accordingly, the supply capacity is expected to increase sequentially to 103,311 MW on the 25th, 104,077 MW on the 26th, and 105,020 MW on the 27th.
The government and power generation companies are maintaining an emergency response posture, expecting that electricity demand will skyrocket due to the recovery of heating demand and utilization rate after the Lunar New Year holiday. The Ministry of Trade, Industry and Energy monitored the power supply and demand core facilities while also inspecting the management of old heat transport pipes in advance. KEPCO maintains emergency duty for its headquarters and regional headquarters as well as partner and emergency companies, and the power exchange continuously updates electricity demand using the latest weather information and responds in real time. Power generation companies are also operating emergency personnel in preparation for unexpected generator failures.

Reporter Byun Sang-geun [email protected]