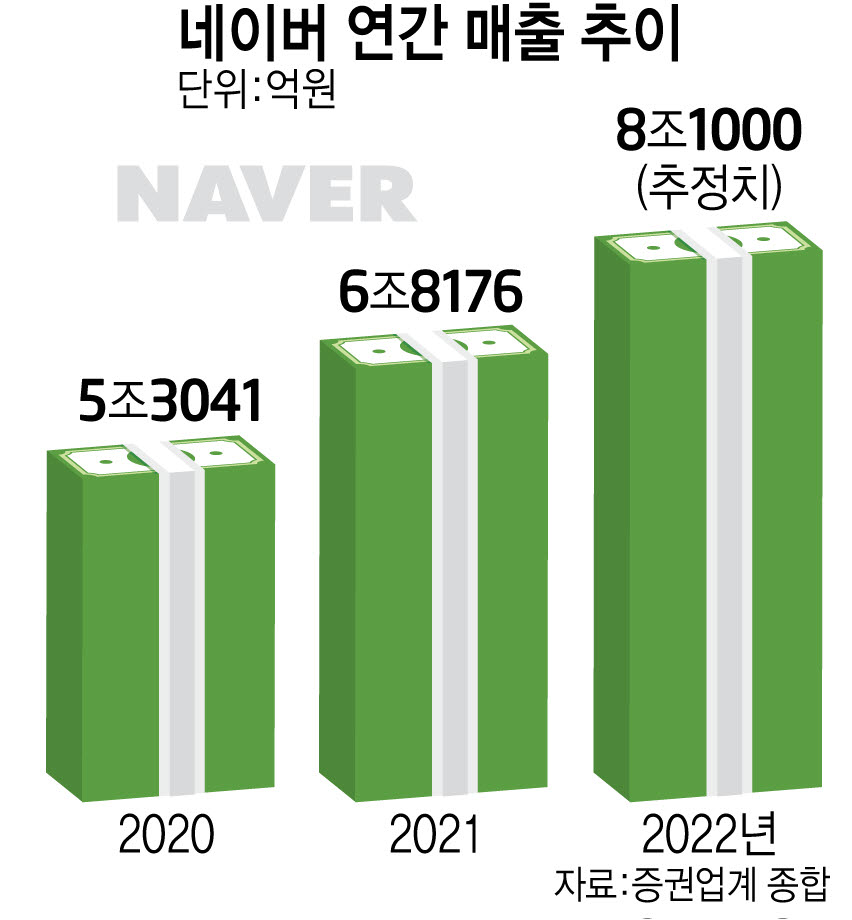 Even though Naver is expected to record the highest sales last year, it is receiving strong opposition from employees as it pays performance bonuses that have been drastically cut compared to the previous year. Accordingly, Naver plans to hold an online in-house meeting, 'Companion Day', on the 3rd of next month, on the day of the announcement of the fourth quarter results, and directly explain the size and financial resources of the performance bonus.
According to a number of Naver officials on the 25th, this year's incentive pay for Naver employees decreased by at least 20% and at most 40% compared to the previous year.
Naver sets different incentives for each CIC. It was an internal policy to keep the size of the performance bonus constant every year. However, this year, most of CIC's incentives decreased significantly compared to the previous year. In particular, 'Clover CIC', which invests more than profits, and 'Search CIC', whose growth rate has slowed due to the economic recession in advertising, saw a sharp decline. 'Forest CIC', a shopping business with relatively steep sales growth, is known to have suffered a small drop.
An official from Naver said, "In the case of last year, mid-high performers received about 20% of their annual salary as an incentive, but this year they received 8-11%." It's messy," he said.
After the payment of performance bonuses to employees during the Lunar New Year holidays, opposition from Naver employees erupted in the blind of an anonymous application (app). "If the incentive pay has decreased by more than half from last year, is this an explanation that you are no longer needed by this team?" It's coming.

Last year, Naver's sales are expected to record more than 8 trillion won. It exceeded 2 trillion won in quarterly sales for the second and third quarters in a row, and is expected to record record-high performance in the fourth quarter as well. However, it is predicted that operating profit will decrease slightly compared to the previous year as the advertisement business, which has accounted for a high proportion of sales, is hit by the rapid economic recession from the second half of last year. It is the first time in five years that Naver's operating profit growth has taken a step back.
Some observe that Naver has started to improve profitability in earnest. It is analyzed that this year, in order to increase profitability by creating synergies through technological expansion of business-to-business (B2B) business, despite the background of concentrating the technological capabilities of each organization such as Clover CIC, Papago, Works Mobile, and Whale into Naver Cloud.
In addition, Naver acquired Poshmark, North America's largest fashion peer-to-peer (C2C) community, earlier this month. The acquisition price was evaluated at an enterprise value of $1.2 billion (approximately 1.5 trillion won). This is the largest acquisition since the foundation of Naver, and the largest among the acquisitions conducted by a domestic Internet company.
With the large-scale cash injection, the possibility of short-term Poshmark depreciation and mid- to long-term marketing cost increases cannot be ruled out. In addition, it is analyzed that the global economic recession is expected to continue, and profits have begun in earnest.
Naver plans to hold a Companion Day for employees on February 3 and explain in detail the current management status and source of compensation at the event.
Meanwhile, Naver's labor union asked for an explanation of whether there was a change in the size of company-wide incentive funds and the background of the reduction of performance pay in relation to the performance pay. The response is also foretold during the upcoming wage negotiations.
Reporter Seong Hyeon-hee [email protected]