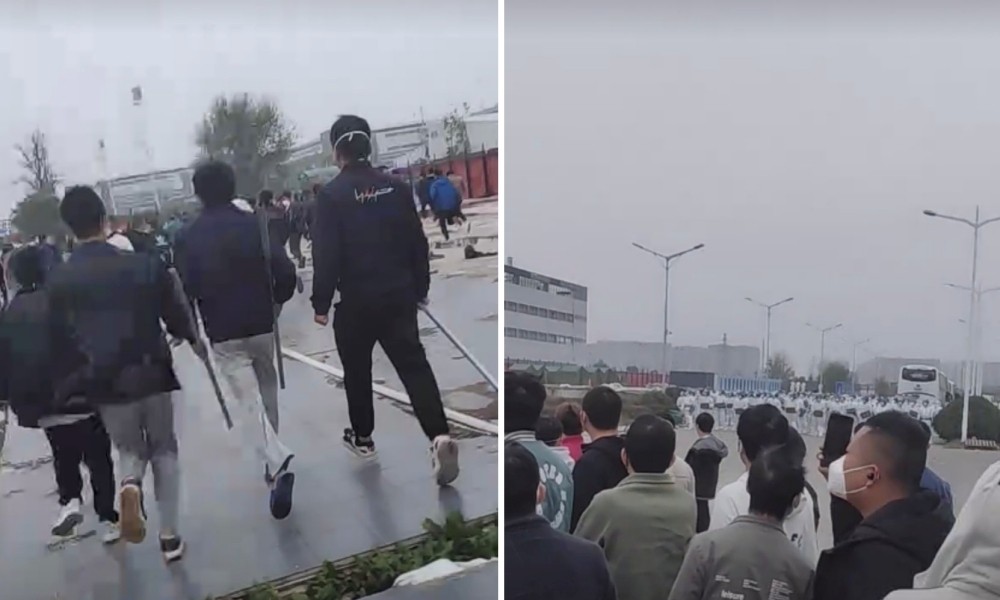 In response to a large-scale armed protest by workers at the Foxconn factory in Zhengzhou, China, the world's largest iPhone production base, Foxconn offered to pay 10,000 yuan (approximately 1.86 million won) to the employee who left the company.
Bloomberg News reported on the 23rd (local time) that Foxconn has started paying $1,400 to employees who leave the factory immediately to extinguish workers' protests.
The previous day, a video of thousands of Foxconn workers holding a large-scale protest spread online. The protests broke out as Foxconn failed to pay the wages it had promised and concerns about the COVID-19 containment grew.
In a video posted on Douyin, a Chinese video platform, numerous Foxconn workers are confronted by police wearing protective clothing and holding shields for riot control.
The workers shouted, "Let's protect our rights!" and when white smoke came out of the police car, "It's a smoke bomb! It's tear gas!"
Foreign media such as the AP and Reuters also posted a video of a worker being hit in the head by a stick and another being dragged by his arm while holding back during the protest, and a video of security guards wearing protective clothing kicking a worker lying on the road. reported that it
It is known that a scene in which workers broke monitors and windows in the factory shouting "Pay the wages" with clubs was also broadcast live on Chinese video site Kuaishou. However, the related video has now been deleted.
As the protests escalated to extremes, Foxconn announced online that it would give incentives of 10,000 yuan to those who resigned. According to the South China Morning Post (SCMP), newly hired workers will receive 8,000 yuan if they resign immediately, and an additional 2,000 yuan if they take a bus out of the factory. Other details were not disclosed.
Last month, fears about lockdown spread one after another at the Foxconn Zhengzhou factory, as confirmed cases of Corona 19 appeared one after another, and meals were not provided properly, causing strong opposition from workers. Security guards tried to stop them, but the workers managed to break through and escaped en masse and returned home.
Foxconn hired 100,000 new people, offering various incentives to make up for those who left.
However, when the promised incentives were not provided, protests broke out, centered on new hires.
In addition, SCMP cited former Foxconn employees as saying that they assigned corona patients and other employees to one dormitory.
Electronic Newspaper Internet Reporter Heewon Seo ([email protected])