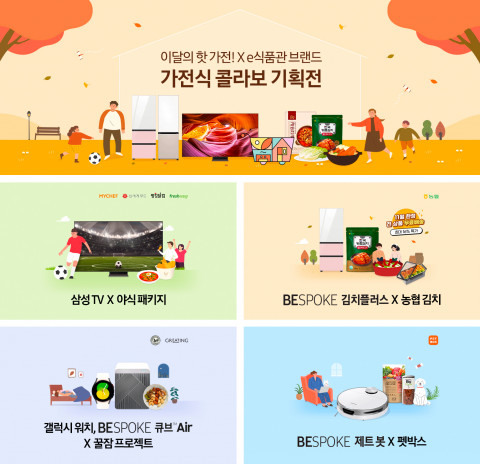 Samsung Electronics presents 'Home Appliance Collaboration Exhibition' to commemorate reaching 1 million visitors to the e-food hall
Seoul–(Newswire) November 23, 2022 — In celebration of the cumulative number of visitors to the 'eFood Hall', an innovative shopping platform linking home appliances and food, Samsung Electronics held a variety of events, including the 'Home Appliance Collaboration Plan'. run an event
The e-food hall is an online food hall established on Samsung.com to conveniently purchase HMR, meal kits, kimchi, meat, and pet food from major domestic food companies in one place.
The e-food hall in Samsung.com is a platform where you can easily purchase various brand foods that can be easily cooked and managed in one place by connecting to Samsung Electronics products. In October of this year, eFood Hall launched the 'Samsung Electronics Membership Plan', which provides benefits close to life, leading the trend toward rational consumption in the era of high prices.
◇ Food brands in e-food hall
△CJ CheilJedang △CJ Foodville △hy (former Korea Yakult) △Kwangdong Pharmaceutical △Greeting △Nonghyup NH Farm △Nonghyup Lively △Nonghyup Food △Daesang △Doderam △Domisol △Dongwon △Ranking Chicken Com △Lotte Confectionery △My Chef △Obstetrics Field △Sunjin △Soul Kitchen △Shinsegae Food △Entre △Yeosu Nonghyup △Ottogi △Obada △Open the Table △Yorihada △Jinmatgwa △Petbox △Pulmuone △Presage △Korea Mcnulty, etc. 30 brands (November 2022) as of the 23rd of the month).
The Samsung Electronics membership plan, which is aimed at customers who purchase Samsung Electronics products such as home appliances, TVs, and mobile devices, allows customers to purchase food for a certain amount every month with affiliate cards (Samsung Card, NH Nonghyup Card, Lotte Card, as of November 23, 2022) after signing up. When purchased, a discount of up to 720,000 won is provided for three years.
Discounts are provided as billing discounts or cashback from affiliated credit card companies, and more information on Samsung Electronics' membership plans can be found at Samsung.com's e-food hall.
*Excluding customers who purchase consumables and accessories (SSD, MD small appliances, LED lights, printers, cameras, lenses, toners, inks, etc.).
With the great popularity of the Samsung Electronics membership plan, the e-food hall launched this year has exceeded 1 million cumulative visitors. In order to repay the great interest from consumers, Samsung Electronics is launching a home appliance collaboration plan from November that connects the company's popular products with food to provide a rich gastronomic life.
The home appliance collaboration exhibition (from November 7th, the end date varies by home appliance item) is an exhibition that introduces combinations that can be easily enjoyed at home with home appliances by pairing food with various Samsung Electronics products, such as home appliances, conceived in home cooking. to be.
In the home appliance collaboration exhibition, △'Samsung TV X Late Night Snack Package', which provides late-night snack product coupons to customers who purchase Samsung TVs on a first-come, first-served basis so that they can fully enjoy this World Cup △ Nonghyup Kimchi at a special price for customers who purchase Bespoke Kimchi Plus in celebration of the kimchi-making season 'BESPOKE Kimchi Plus X Nonghyup Kimchi' provided with free shipping △ 'Galaxy Watch, BESPOKE Cube™ Air X Sleep Project Package' to help you sleep with nutritious food and smart healthcare △ 'BESPOKE Jet Bot X Pet Box' for pet families there is
For more information on Samsung Electronics' membership plans and events, including special exhibitions, visit Samsung.com's e-Food Hall.
Samsung Electronics Overview
Samsung Electronics is a global leader in semiconductor, telecommunication, digital media and digital convergence technologies. Samsung Electronics consists of five divisions: Digital Appliance, Digital Media, LCD, Semiconductor, and Communication Network. As the world's fastest-growing brand, Samsung Electronics is a world leader in smartphones, digital TVs, memory semiconductors, OLEDs and TFT-LCDs.
Related Links
Samsung.com e-Food Hall: http://www.samsung.com/sec/bespokeshop
Website: http://www.samsung.com/sec
This press release is news prepared and published by the contributor. The media can use this material for reporting. Newswire is committed to verifying the reliability and transparency of providers and eliminating content errors in accordance with editorial guidelines. If you have any issues with the press release, please let us know.
News providedSamsung