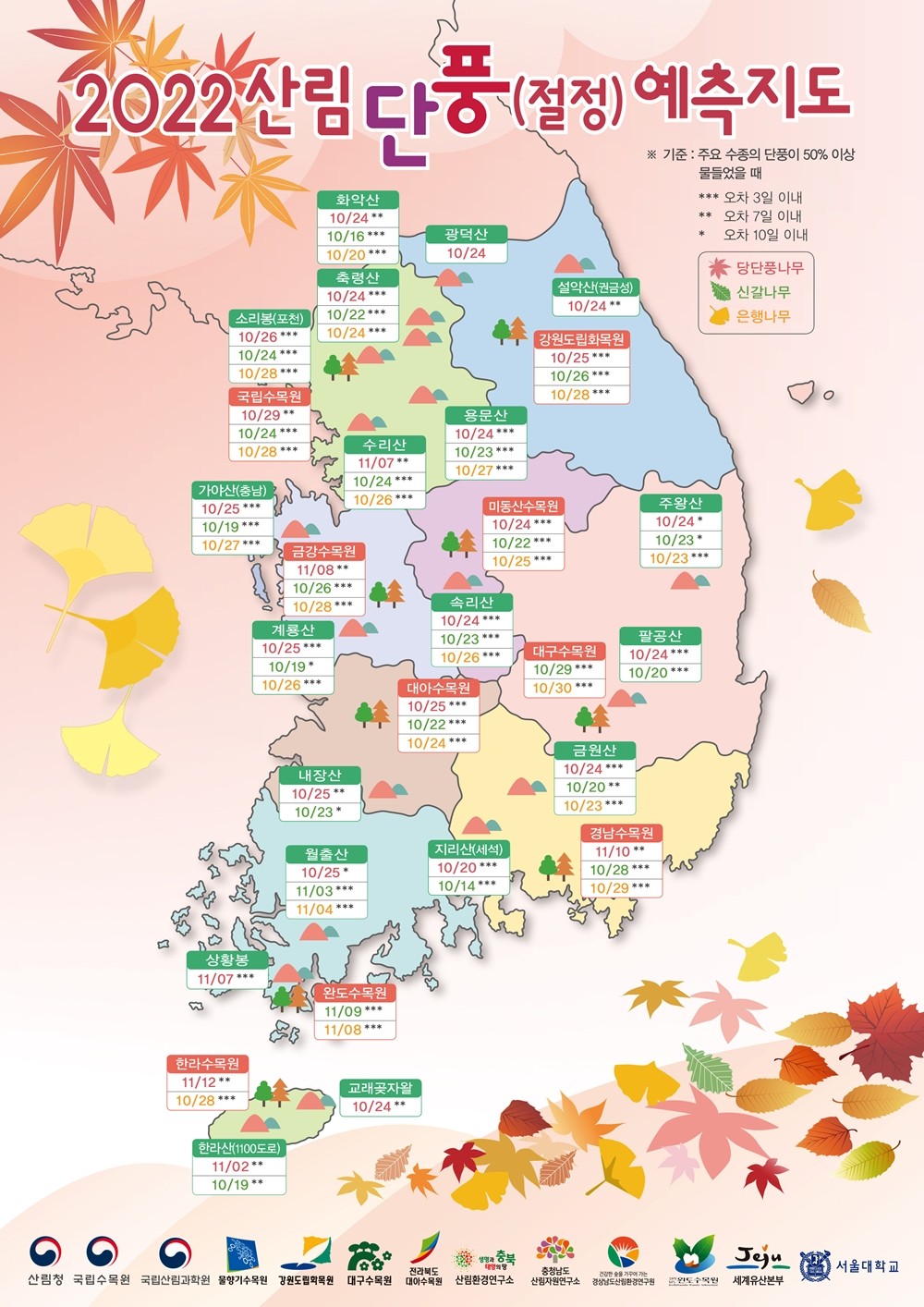 The Korea Forest Service (Chairman Nam Nam-hyeon) announced on the 27th a map that predicted the peak time of autumn leaves in Korea's major forest areas in 2022 for people preparing for a mountain outing as autumn enters full-fledged.
According to them, the best time to see the autumn leaves this year varies depending on the region and tree species, but most are expected around the end of October. The national average is October 26, and in some areas in the southern part of the country, you can see the autumn leaves until early November.
This prediction is based on the observation data of the seasonal phenomena of plants that are directly observed in the forest annually by the National Arboretum, the National Academy of Forest Sciences, and 9 regional public arboretums jointly, and the weather information from the mountain meteorological network observed in 414 mountainous regions across the country. did. The mountain weather network provides weather information for monitoring climate change and forecasting forest disasters such as landslides and forest fires.
For the analysis, wild maple and Japanese oak and ginkgo, a planted tree species, were used for the analysis.
Kim Yong-gwan, director of the Forestry Protection Bureau of the Korea Forest Service, said, "As the late heat and typhoons are receding and the autumn leaves season is in full swing, it will be more beneficial to hike in advance if you know and utilize the information on the prediction of autumn leaves when hiking in autumn." We plan to further improve the accuracy of the model for predicting the autumn leaves season in the forest area through the observed on-site monitoring data and mountain meteorological data."
On the other hand, this announcement is for three tree species, which are of high public interest and widely distributed in Korea's forests, namely sugar maple, ginkgo biloba, and shingle. 19 forests representing each region in Korea, such as Seoraksan, Jirisan, and Hallasan, and 9 national and public arboretums by region were included.
Reporter Seong-jin Park ([email protected]), Electronic Newspaper Internet