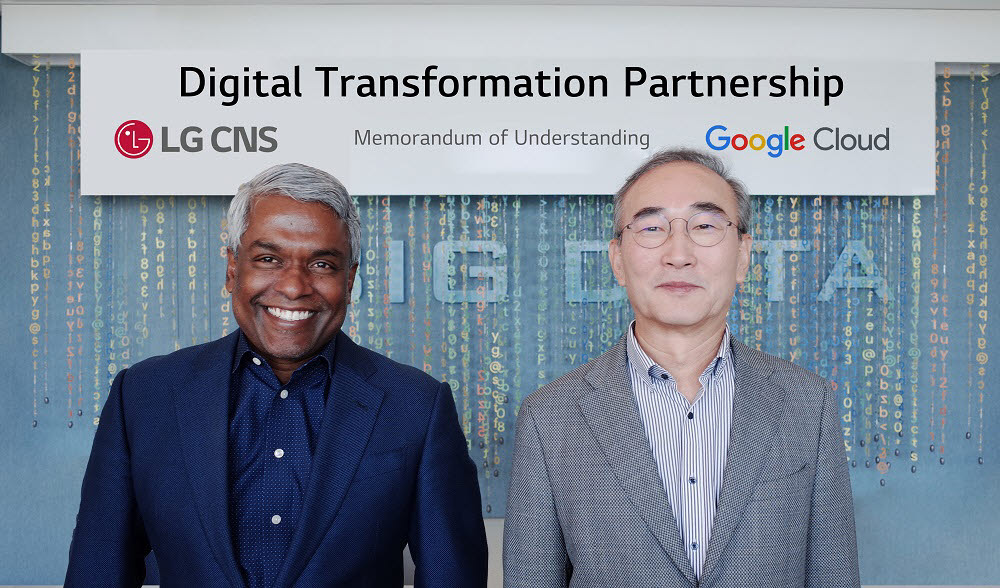 LG CNS is promoting strategic collaboration with Google Cloud to accelerate digital transformation (DX).
LG CNS CEO Kim Young-seop and Google Cloud CEO Thomas Kurian signed a 'Digital Transformation Partnership (DTP)' for DX at the Google Cloud headquarters in Sunnyvale, California, USA. It is the first time that Google Cloud has signed a DX agreement with a domestic company.
Based on a partnership with Google Cloud, LG CNS will promote businesses such as △preemption in the domestic enterprise artificial intelligence (AI) market △modernization of cloud applications (AM) and △total experience (TX) innovation.
First, LG CNS plans to secure leadership in the domestic enterprise AI market. The main task is to commercialize AI technology for manufacturing sites, such as supply chain innovation, quality improvement, and operation automation. To this end, it plans to discover and spread innovation cases based on AI technology capabilities and Google Cloud's AI and machine learning services.
LG CNS is equipped with solid AI capabilities based on four major AI labs: 'Language AI LAB', 'Vision AI LAB', 'Data AI LAB' and 'AI Engineering LAB'. It is expected that synergies can be created through cooperation with Google Cloud.
LG CNS is also promoting AI-based cloud AM business. AM is to build applications optimized for cloud environments. LG CNS has secured more than 500 AM experts and has a 'Cloud Native Launch Center' and a 'Cloud Application Build Center' as a specialized AM organization. LG CNS is expanding new AM businesses by applying Google Cloud's AI technology to its AM capabilities.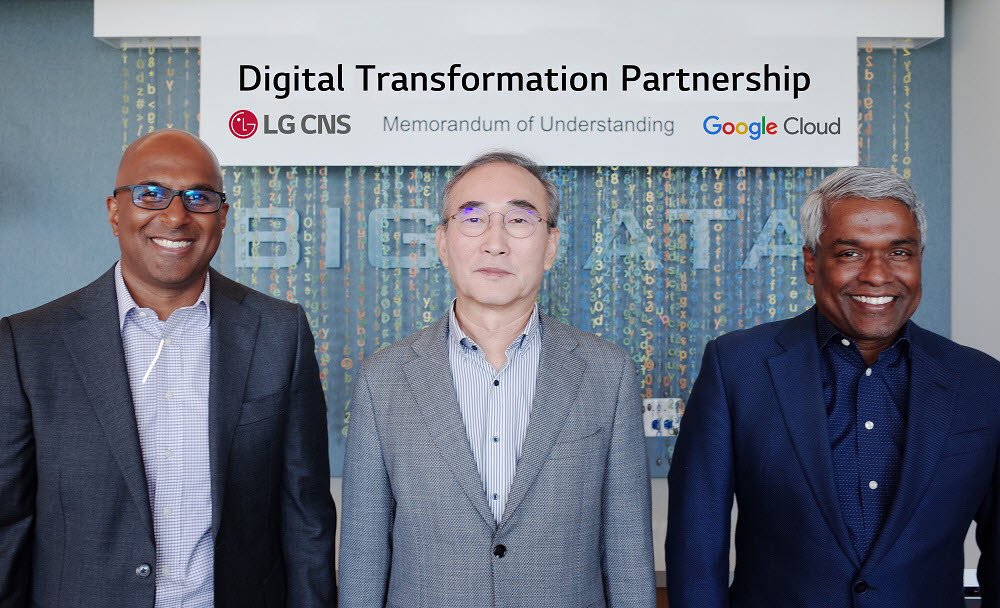 TX innovation is also promoted. TX is a concept that transforms business by integrating user experience, customer experience, and employee experience. To this end, LG CNS and Google Cloud will discover hyper-personalized marketing services that combine big data and AI/machine learning capabilities.
Hyper-personalized marketing is a concept that goes one step further from personalized marketing, and it means predicting the future behavior and situation of customers and providing optimal products and services at the time they need them.
LG CNS decided to gradually apply and spread the AI-infused Google Workspace to innovate the experience of corporate customers and employees. Google Workspace is a cloud-based smart work solution that provides an environment where users can work anytime, anywhere, on any device. When Google Workspace is applied, work efficiency is expected to be improved through innovation in working methods and organizational culture.
In addition, LG CNS plans to promote cooperation in DX technologies such as AI, big data, and edge computing with Google Cloud in the fields of smart cities and smart factories.
Kim Young-seop, CEO of LG CNS, said, "LG ​​CNS possesses DX technology capabilities and abundant elite experts, and is actively promoting open innovation with domestic and foreign top technology companies. We will leap forward to become the best 'digital growth partner'."
By Ahn Ho-cheon, staff reporter [email protected]