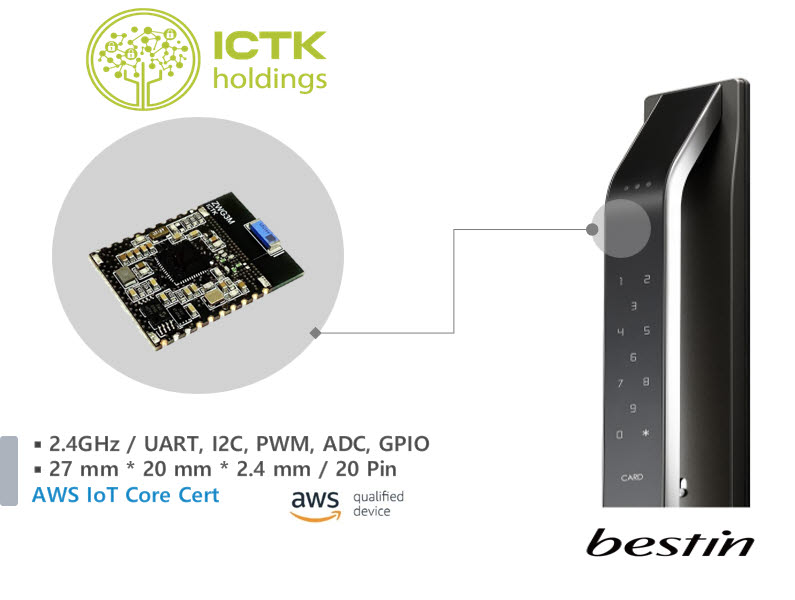 ICTK Holdings, a security specialist, and HDC Labs, a construction IT conglomerate, joined hands to introduce a digital door lock equipped with a Wi-Fi communication module incorporating physical copy prevention technology (PUF) technology for the first time. In particular, the Wi-Fi communication module with a PUF chip was the first to obtain security certification from Amazon Web Services (AWS), and the data confidentiality of smart home products was recognized externally.
ICTK Holdings (CEO Lee Jung-won) announced on the 25th that it has released HDC Labs' digital door lock 'Vestin' equipped with 'Trust-Fi', a Wi-Fi security module. This is the first time that a digital door lock equipped with a PUF-based security module is sold on the market.
Bestin is a smart home brand of HDC Labs. The digital door lock model equipped with ICTK Holdings' Wi-Fi security module 'TrustPie' is the 'IDL-400 series', the highest model in the Bestin product lineup.
TrustPie obtained an official certification for Internet of Things (IoT) integration from AWS in 2020. It was the world's first Wi-Fi security module at the time. TrustPi is a low-power Wi-Fi module with built-in PUF semiconductor security technology. It guarantees interoperability between cloud platforms as well as firewall functions of IoT devices such as device authentication, secure boot, and data integrity check.
In particular, AWS highly praised TrustPie for providing various IoT device-related functions, such as △Wireless Firmware Update (FOTA) △Zero Touch Provisioning (ZTP) △Multi-Factor Authentication △Encryption/Certificate Processing. ICKT Holdings, a top-tier Korean partner, receives annual support of $20,000, the highest marketing support amount under AWS policy.
TrustPie, provided by ICTK Holdings to HDC Labs, thoroughly guarantees confidentiality in data communication between the digital door lock and the AWS Cloud. It also blocks hacking of the key value used to open and close the digital door lock with a smartphone.
An official from HDC Labs said, "Thanks to the installation of ICTK Holdings' strong security module in smart home products, we have been able to perfectly solve various security issues that have been constantly raised by network-type door locks."
ICTK Holdings, which obtained the Cryptographic Verification Module (KCMVP) certification from the National Intelligence Service in July, is planning to expand its application to public IoT fields such as remote meter readers (AMI) based on this door lock reference.
Lee Jung-won, CEO of ICTK Holdings, said, "The application will be fully expanded to all IoT devices that can be remotely accessed or managed remotely, such as wall pads, rental water purifiers, boilers, and white appliances, as well as the public market. As it is always vulnerable to security by using sensors from
Reporter Sumin Ahn [email protected]