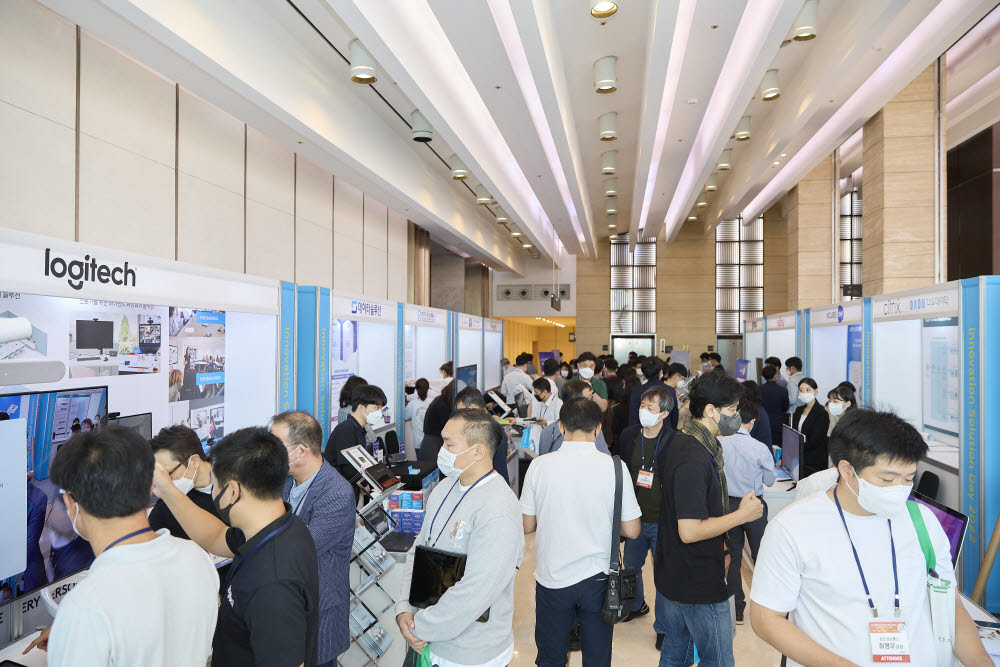 In the post-corona era, an information exchange was opened to hear and experience various core solutions such as business collaboration tools, low-code development platforms, video conferencing solutions, robot process automation (RPA), and bio-information authentication for successful digital transformation in the post-corona era.
The Electronic Times co-hosted '2022 Innovation Solution Day' with the Korea Information Industry Association on the 22nd under the theme of 'Future the Work: How do successful companies promote business innovation?' at L Tower in Yangjae-dong.
This is to inform the optimal solutions and services suitable for digital-based work environment and productivity innovation as domestic companies are facing demands for optimal work environment construction and productivity innovation due to non-face-to-face work routine and corporate work digitalization. It offered a place to think about how to work in the near future and find solutions.
IT companies such as Toss Lab, BI Matrix, Logitech Korea, NHN Douray, Data Solution, Citrix Korea, Hanjin Information and Communication, Knowledge Cube, Bitek Information and Communication, and Fujitsu Korea promote work innovation in each field to companies contemplating digital transformation. came out with a tombstone for
Daehyun Kim, CEO of Toss Lab, gave a keynote lecture on 'Changes in the work environment and efficient work methods'. CEO Kim introduced the work method chosen by companies leading the change and suggested an optimized work method according to the characteristics of the company. He also shared insights and real-world customer examples of the work environment that he gained while providing the collaboration tool JANDI.
Young-geun Bae, CEO of BI Matrix, said, "The great advantage of the low-code development platform 'AUD' is that it does not require training or manuals if business managers can use Excel well. It is possible to quickly respond to the digital transformation era by reducing the time and cost of building a business system."
"The hybrid smart workspace model is no longer a temporary measure, but an official option," said Min Moo-seong, director of Logitech Korea.
NHN Duray evaluated the collaboration tool as a popular and essential work tool, such as reducing the time spent on e-mail response, data search, and internal communication during the entire business hours, thereby increasing work productivity by 20-25%.
In addition, Mi-jeong Kang, Managing Director of Knowledge Cube, presented work innovation methods under the themes of 'The golden age of SaaS, the work culture that companies should choose', and Jeong Do Kim, Managing Director of Citrix Korea, 'ZTNA, the key key for safe hybrid work'.
Reporter Sumin Ahn [email protected]