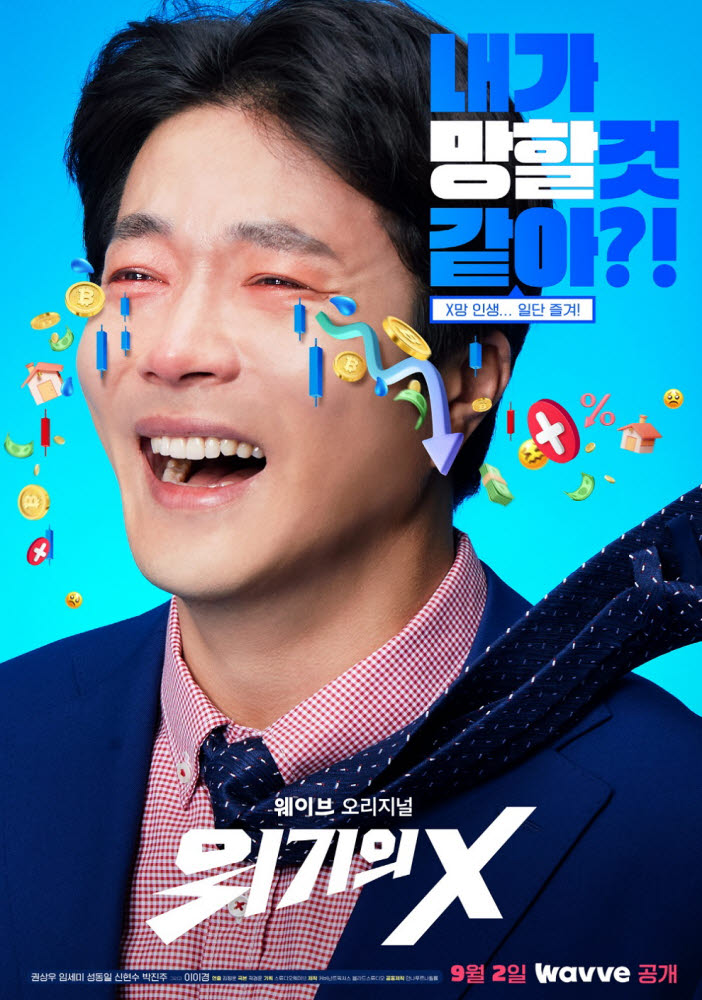 'Mr. A', who has the title of 'the youngest deputy manager', is temporarily retired due to difficult company circumstances. To him, who is worried about his livelihood, his friends recommend investing, and Mr. A enters the path of stocks and coins.
Mr. a starts investing simply and easily through mobile, without having to go to the store or turn on the PC. However, you can watch stock prices and coin fluctuations live at any time, anywhere, and watch the investment curve moving back and forth in real time, continuing the experience of mixed joy.
This is the story in Wave's original drama 'X of Crisis'. 'Crisis X' is a comical depiction of a 'man in crisis' who has been hit by 'the biggest decline in life', including voluntary retirement, stocks crash, and soaring house prices, for a rebound (collecting souls). The work realistically depicts various real-life empathy materials, including everyday life made possible by fintech such as stocks, coins, subscriptions, startups, and fire groups.
Fintech is a term that refers to a combination of finance and technology that can replace cards and wallets with a simple payment service, make Dutch payments with friends easily with a remittance service, and check real-time investment information with a stock app.
The reason viewers feel sympathy after seeing Mr. A in the play is thanks to the wealth management fintech service that has become familiar in our lives. Mobile safety has increased along with the development of smartphones, and the Mobile Trading System (MTS), a mobile-based individual investor stock trading method, has been established. Beyond simply notifying trading, it supports analysis of various indicators, counseling at the time of trading, and long-term asset management.
In 'X of Crisis', 'Kim Dae-ri' of the startup Lucido, where the main character, Mr. A, begins the second act of his life, also stands out. Dae-ri Kim aims for the Fire family. The Fire family refers to the MZ generation, mainly engaged in high-income, high-education, and professional occupations who wish to achieve financial independence and early retirement.
The greatest characteristic of the Fire family is financial independence through long-term investment. In the play, Dae-ri Kim uses fintech to design plans for his life and execute investments.
Fintech is developing along with the 4th industrial revolution. There is also a lot of interest in big data and artificial intelligence (AI)-based robo-advisors. Robo-advisor is a compound word of robot and investment expert, and it is a service that provides integrated asset management through big data and algorithms. For thorough security, biometric technologies such as voice, retina, iris, and fingerprint were introduced, and security was strengthened with various technologies such as blockchain for cryptocurrency.
The Fire family, who aim for voluntary early retirement based on economic independence, are actively utilizing Fintech like Kim Dae-ri to save and invest at the same time. The drama 'X of Crisis', which humorously presents familiar topics in everyday life such as finance and fintech, can be viewed on the online video service (OTT) Wave.
Reporter Jongjin Park [email protected]