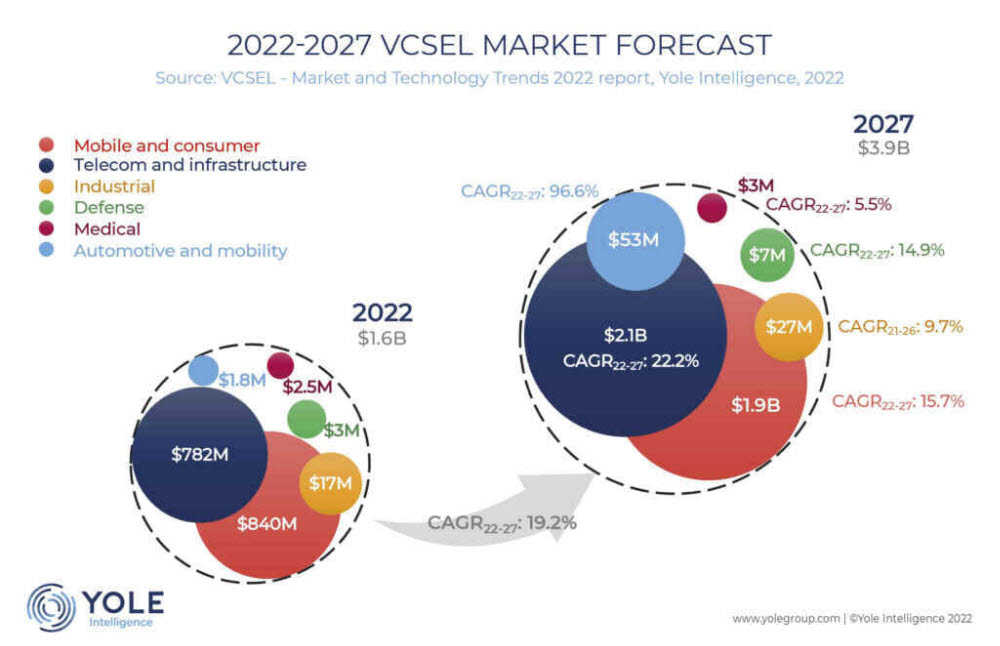 The 'VCSEL' market, which is a core chip for 3D sensing and LiDAR, has changed to a 'two-top' system in 5 years. While the No. 1 operator, Lumentum, is firmly defending the throne, 2Six, the No. The VCSEL market is expected to grow at a CAGR of 19.2% over the next five years.
According to market research firm Yole Development, in the VCSEL market last year, Lumentum accounted for 42%, ranking first. In second place is Two Six with 37%. Considering that the market share of Twosix in 2017 was only 14%, it is a very rapid growth. It is believed that TwoSix joined Apple as a 3D sensing supplier and increased its scale by acquiring related companies such as Coherent. The combined market share of Lumentum and Twosix is ​​close to 80%. Yole Development estimates that the VCSEL market has nearly doubled since 2018.
The market growth is also expected to be steep. The VCSEL market is expected to grow to $1.6 billion this year and $3.9 billion in 2027. In the past, the demand for VCSELs in the telecommunication equipment field was large, but the center of gravity shifted to mobile as Apple released an iPhone with a VCSEL chip for facial recognition. Currently, the largest VCSEL market is also in the mobile and consumer sector, reaching $840 million. Mobile VCSEL sales are projected to more than double to $1.9 billion in 2027.
The sector with the greatest growth potential is the automobile market. VCSEL, which is supplied to vehicles such as lidar installed in autonomous vehicles, is about $1.8 million this year, but is expected to grow 96.6% by 2027 to reach $53 million.
By Kwon Dong-jun, staff reporter [email protected]