In response to President Yoon Seok-yeol's slurring controversy over "these XXs in the National Assembly" during summit diplomacy during his visit to the US, a member of the US House of Representatives advised on SNS, "Focus on your home country."
Congressman Kaiali Kahele, a member of the Hawaii State House of Representatives, said in a tweet on the 22nd (US time), "The approval rating for the state government is 20%" and "I'm sorry, President, but you should focus (or focus) more on your home country." did.
Rep. Kahele did not directly mention 'President Seok-Yeol Yoon' or 'Korea' in the Twitter message. Based on this message alone, there is no way to know which president he was referring to or which country he was referring to.
However, Rep. Kahele linked to an article in the US that dealt with the controversy over the profane language of the 'Korean president'. The article was titled 'I heard the South Korean president insult the US Congress as 'idiots'. There seems to be no proper translation for the Korean profanity 'XX', so it seems to have been paraphrased as 'idiot'. (☞Related article: Controversy over President 尹's 'bad talk', foreign media reports one after another)
Rep. Kahele is one of the members of the Korean delegation who visited Korea with Rep. Nancy Pelosi in September Janan. It was an itinerary following Chairman Pelosi's visit to Taiwan, which was of international interest at the time. Rep. Pelosi and the U.S. delegation visiting Korea returned home without meeting President Yoon, who was on vacation.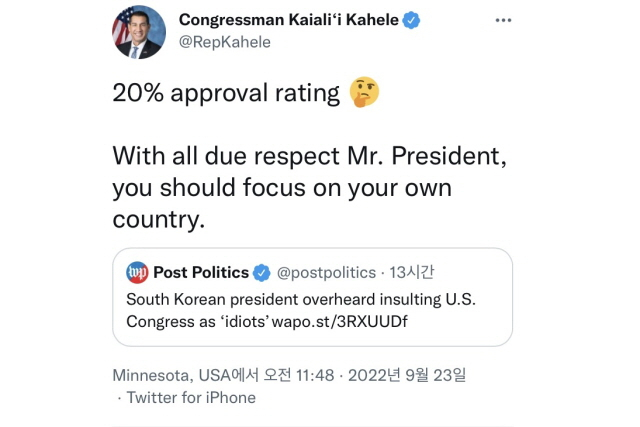 I want to pay a subscription fee for this article.
+1,000 won added
+10,000 won added
-1,000 won added
– 10,000 won added
XD

KURDO.ORG [예금주 프레시안협동조합(후원금)]Account transfer is also possible.