A day after Russian President Vladimir Putin issued a partial mobilization order, conscription quickly began across Russia. Contrary to the announcement of the mobilization of the reserve forces, there are reports that even those without military experience are being conscripted, and more conscription notices are flying in minority areas. Anti-war protesters also received notices of mobilization from the police station where they were taken. While citizens are greatly agitated by the mobilization order, hardliners are opposed to the exchange of prisoners of war with Ukraine, including the Azou Regiment, which Russia has defined as 'neo-Nazi', and it is analyzed that Putin is being criticized from both sides.
The Moscow Times, an English-language media in Russia, reported on the 22nd (local time) that after President Putin's mobilization order the day before, offices for recruiting additional soldiers were opened throughout Russia. The media pointed out that although the government announced that the mobilization order was for reserve troops, many of those who were actually drafted included people with no military experience at all. Southeastern Buryatia local journalist Yanina Nimayeva revealed today that her mobilization orders were also issued to her own 38-year-old husband, who had no military experience at all.
There are also suspicions that the mobilization is concentrated in ethnic minority settlements, including in Buryatia. British media said that Alexandra Garmazapova, president of the Anti-war organization Free Buryatia Foundation, confirmed more than 3,000 notices of convening in Buryatia alone within a day after the mobilization order was issued. reported The media speculated that more mobilization seems to be taking place this time in areas where ethnic minorities have already suffered relatively more casualties than in central Russia compared to central Russia.
The New York Times (NYT) reported that "Siberia and the region of the Caucasus Mountains, where there are many Muslims, were the hardest hit." On social media, several subpoenas were shared in Kabardino-Valkariya in the southwest and Yakutia in northeast Siberia. A woman who had already lost one of her sons in the war told The New York Times that three buses carrying her newly mobilized soldiers left her hometown of Dagestan, southwest of Russia, the poorest region. A local activist in the Yakutian region's capital, Yakutsk, told the media that new recruits are being transported by plane from remote Arctic villages. The Russian military said that it had voluntarily enlisted as many as 10,000 people in 24 hours.
Young people who were protesting against the mobilization call were taken away by the police and received a notice of the call. According to the Moscow Times, the police took even Artiom Krieger, a journalist who was covering the anti-mobilization protests in Moscow, along with the protesters, and issued a notice of convening. In an interview with the media, he said that more than 10 men besides himself had received the notice on the 22nd. The New York Times reported that Mikhail, 29, who was detained by a Moscow police station during a protest, also handed a notice to the police and said that he threatened to go to jail if he refused. Citing Russian human rights group OVD-Info, the media reported that at least six Moscow police stations had issued draft notices to protesters. Russian presidential palace spokesman Dmitry Peskov said it was "not against the law" for the police to issue notices of convocation to detainees. OVD-Info reported that 1,336 people were detained for protests against mobilization from the 21st to the 22nd.
Russian lawyer Grigory Beifan told The New York Times that the impact of the partial mobilization measures was comparable to that of the beginning of the Ukraine war on February 24. He explained, "At that time, the war started 'over there'. Now, 'here' also started." Sergei Kribenko, president of Citizen, an organization that provides legal help to Russian soldiers, told the Moscow Times, "The number of inquiries that normally come in about 50 a day has increased to 14,000 in the past two days." "The fear is huge." said The Russian independent newspaper Novaya Gazeta Europe reported that the mobilization scale could reach 1 million, not the 300,000 previously announced by the government, citing government sources.
Escapes to avoid conscription appear to be continuing. Air tickets to neighboring countries where Russians can enter without a visa, such as Turkiye (Turkey) and Kazakhstan, have sold out or have skyrocketed in price. Entry into Finland, which borders the country, has also surged. According to Reuters on the 22nd, cars were lined up at a distance of 300 to 400 meters this afternoon at the border of Finland's Valima border, which is three hours from St. Petersburg, Russia. However, the head of the Finnish border guard said congestion got worse at night, but at a manageable level. The border guard said on the 21st that 4,824 Russians had arrived in Finland via the eastern border, compared to 3133 a week earlier. The BBC reported that there were several kilometers of vehicular traffic along the border with Georgia, and that there were cases where people used bicycles to avoid congestion. According to the media, a man had to stand in line for 12 hours to leave Russia to escape conscription.
Sailor Dmitry (26), who is currently staying in Turkiye, told The New York Times that over the past 24 hours, his friends exchanged information about flights and border conditions to leave Russia. It was because the war in Ukraine did not have a significant impact on their lives, he said. He dismissed the invasion as Putin's 'personal project' and now said, "Many people want to leave Russia because they don't want to go to war because of one man's opinion."
Regarding Russians fleeing conscription, the European Union (EU) basically expressed solidarity with the escaped men, saying "Russians are voting with their feet." However, it is unclear whether there will be practical assistance, such as providing asylum or expediting visa issuance. The three Baltic countries, Latvia, Lithuania, and Estonia, have already drawn a line on the 21st that they will not grant asylum applications to Russians who are fleeing mobilization. Finnish Prime Minister Sanna Marin said on the 22nd that "I believe that Russians should stop entering Finland for tourism purposes." He added that "the situation needs to be reevaluated", referring to Putin's partial mobilization order.
In addition to the partial mobilization order that caused a great stir among anti-war supporters and ordinary citizens in Korea, the sudden exchange of prisoners of war with Ukraine on the 22nd provoked a backlash from hardliners, and some analysts say that Putin is being criticized twice. The Washington Post (WP) reported that the far-right hardliners denounced the release of the Azou Regiment as "worse than a crime", which is in direct opposition to President Putin's 'de-Naziization' of Ukraine as a pretext for war.
Russia's state-run news agency started on the 23rd in Donetsk Oblast and Luhansk Oblast in eastern Ukraine, where the pro-Russian Donetsk People's Republic (DPR) and Lugansk People's Republic (LPR) were established, and in the southern Zaporiza and Kherson Oblasts. It was reported that a referendum on Russia's incorporation would be held on the 23rd and 27th. The North Atlantic Treaty Organization (NATO) issued a statement on the 22nd, saying, "It most strongly condemns what is called a 'referendum'. NATO condemned the vote, calling it "unlawful and outright violation of the UN Charter."
Lavrov, Security Council's Zelensky "Dog XX" analogy… Ukrainian foreign minister condemns 'inappropriate slang'
Meanwhile, Russian Foreign Minister Sergei Lavrov, who attended a meeting of the UN Security Council in New York on the 22nd, said that the Ukrainian government had been suppressing Russian-speaking people in eastern Ukraine despite strong criticism of the US and other Western countries' invasion of Ukraine. Reiterating the position of the Russian government, it justified the invasion. Rather, Lavrov criticized the West for providing arms to Ukraine, calling it "a threat to Russian security."
According to the AP, Lavrov, who only appeared briefly during his speech at the meeting that day, compared Ukrainian President Volodymyr Zelensky to a "son of a bitch" and drew backlash from the Ukrainian side. Lavrov argued that US policy toward the Zelensky government was based on the position "he's a son of a bitch, but he's our son of a bitch". Ukrainian Foreign Minister Dmitry Kuleva condemned Russia's use of "inappropriate slang".
The expression 'I'm a dog, but my dog' is known as an expression used by US President Franklin Roosevelt in 1939 to explain his position on Nicaraguan dictator Anastasia Somosa Garcia, the dictator of Nicaragua. There is no official record of this. It is not known exactly what the first user or etymology means to support even a corrupt or corrupt power if it is beneficial to them. Lavrov also used this expression in an interview with The Washington Post in 2013.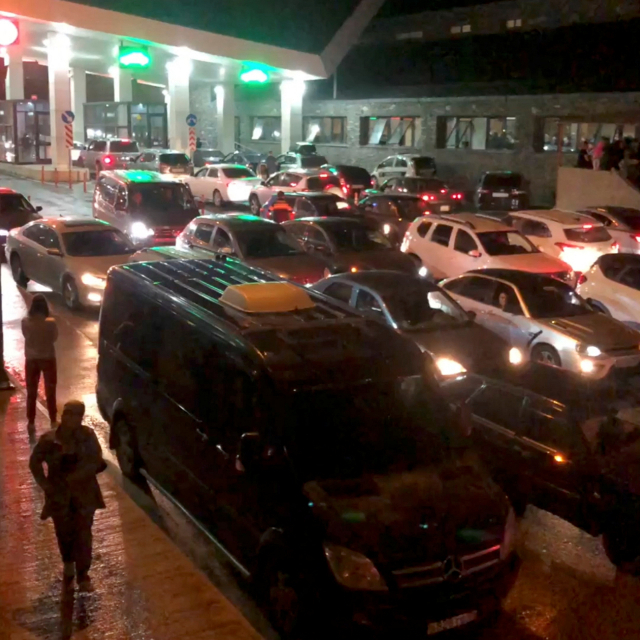 I want to pay a subscription fee for this article.
+1,000 won added
+10,000 won added
-1,000 won added
– 10,000 won added
XD

KURDO.ORG [예금주 프레시안협동조합(후원금)]Account transfer is also possible.