Hyundai Motor's labor and management prepared a tentative agreement for wage negotiations without disputes for four consecutive years.
Hyundai Motor's labor and management drew a tentative agreement on the 12th at the 15th wage negotiations held in the companion room of the main building of the Ulsan plant in the presence of representatives of labor-management negotiations, including vice president Lee Dong-seok and union branch manager Hyeon-ho Ahn.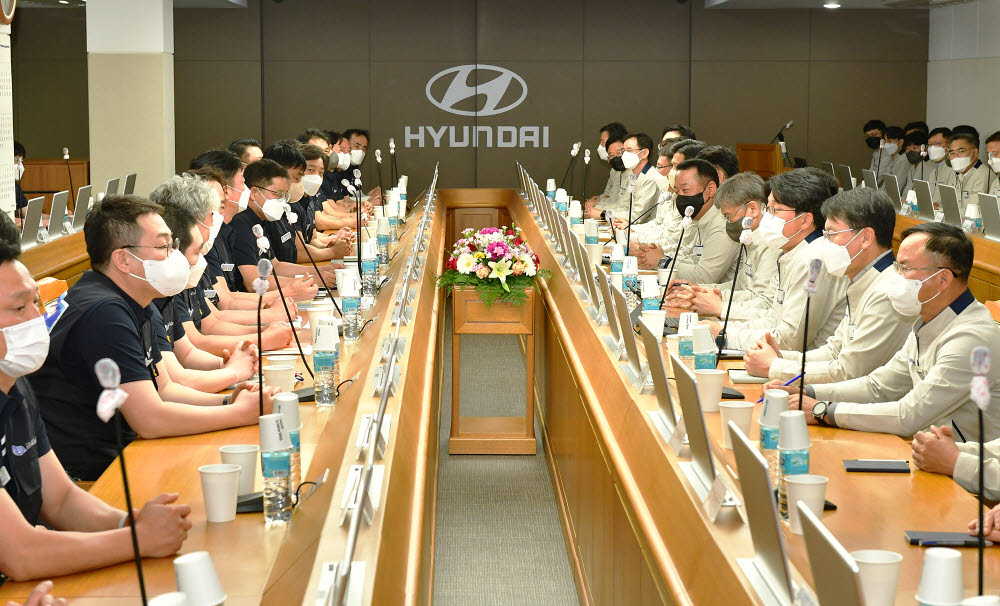 The wage increase and the size of the bonus were decided at the level of a 9% increase in annual salary compared to the previous year. Hyundai Motor explained that it comprehensively took into account internal and external risks such as the improvement in business performance of the previous year, the prolonged supply and demand shortage of semiconductors, and global geopolitical threats.
The main contents of the tentative agreement include a 4.3% increase in basic salary (98,000 won, including salary increase), 10,000 won in allowance, 200% + 4 million won in management performance, 1.5 million won in quality improvement incentives, 100% incentive to achieve goals in the second half of the year, changes in the future automobile industry 20 stocks of special incentive to respond, and gift certificates from traditional markets of 250,000 won.
Labor and management will improve the wage system according to the characteristics of each job group in connection with the response to future changes in the automobile industry. They agreed to come up with a plan to improve the wage system for research positions by the end of March next year to secure outstanding talent in the research center and R&D competitiveness.
In order to preemptively respond to the rapidly changing business environment of the automobile industry and risk factors, the 'Labor-Management Consultative Group for internal and external risks in domestic factories' is formed in which the representatives of labor and management participate. They decided to hold a regular meeting once a quarter to share future automobile industry trends, production, quality, and safety indicators, and to discuss countermeasures.
The company continued the principle of 'unacceptable' to unreasonable demands such as extension of the retirement age and reinstatement of dismissed workers. This tentative agreement, which was achieved for the first time in history without disputes for four consecutive years, is expected to contribute to the recovery of the domestic economy and the prevention of setbacks in the production of parts suppliers.
In addition, labor and management prepared a 'special agreement on future investment in domestic factories' to respond to the automotive industry environment, such as the spread of electrification, and to secure a future vision for domestic factories and employment stability for employees. The goal is to build a domestic electric vehicle-only plant and to rebuild old production lines in stages.
However, this year's contract with Hyundai Motor will be completely finalized only when the provisional agreement passes a vote in favor of all union members.
Political actor [email protected]