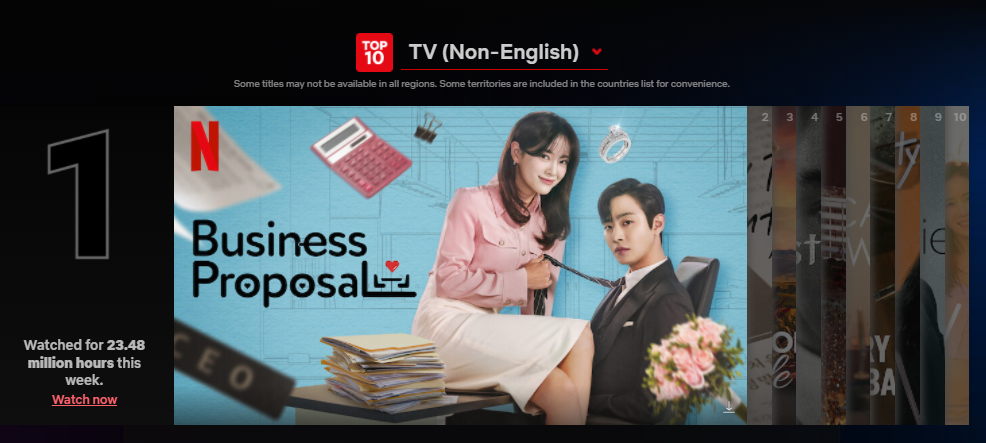 Korean-style romantic comedies such as 'Meet the Guy' and 'Twenty-Five, Twenty One' are drawing responses not only in Korea but also abroad.
According to the 'Netflix Global Top 10', which is announced by Netflix on the 24th (Korean time) by counting the viewing time of users every week, 6 Korean content is included in the popular non-English-speaking TV series, and 'K-content' showing off the power of
Domestic content included in the top 10 non-English-speaking TV series is 'Boyfriend (SBS)', 'Twenty-five, Twenty One (tvN)', 'Boy Judge (Netflix Original)', 'Now At Our School (Netflix Original)', There are six of them, including 'People of the Korea Meteorological Administration: The Cruelty of In-House Romance (JTBC)' and 'Thirty, Nine (JTBC)'.
In particular, in this chart, in addition to genres that have gained popularity with provocative or unique materials such as 'Squid Game' and 'Now at our school', 'K-Roco' is notable.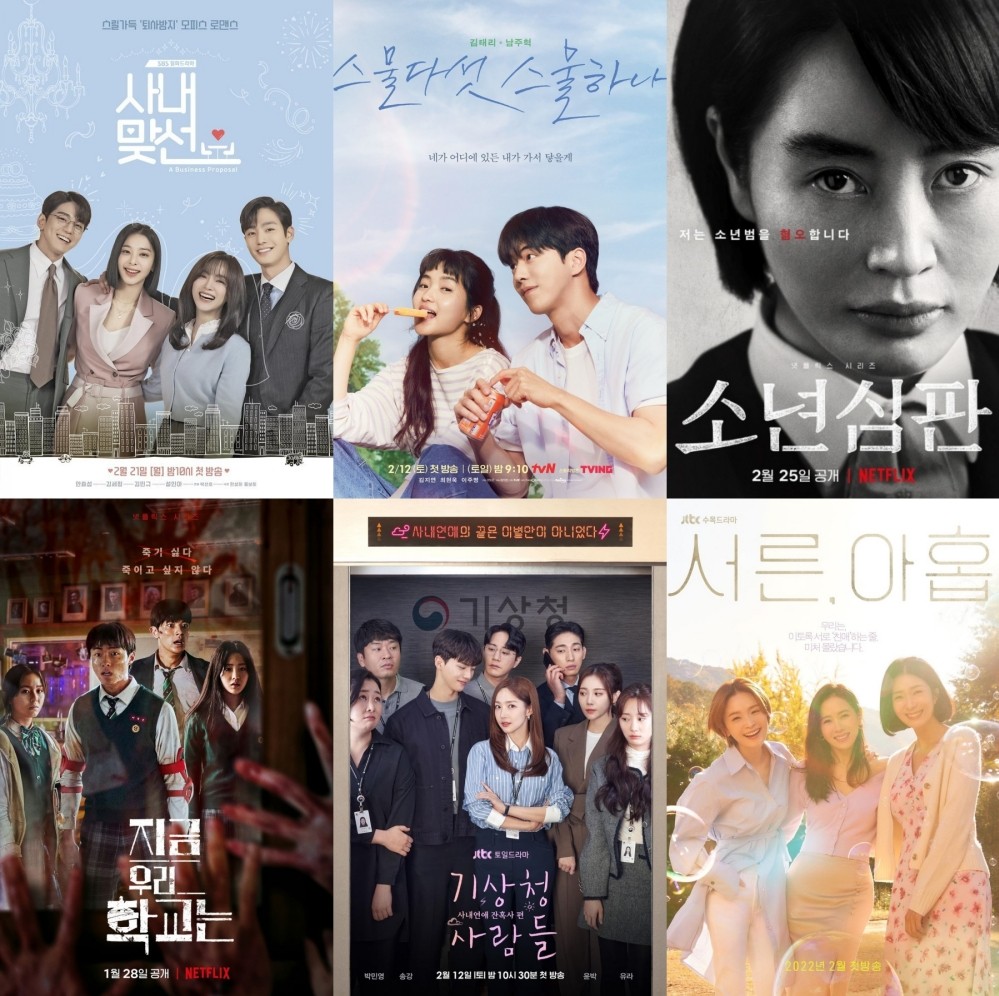 Matchmaking is a drama currently airing on SBS, and is also being serviced on Netflix. It is an office romance drama based on a novel. Instead of her friend, Shin Ha-ri (Kim Se-jeong), who cheats on her identity and confronts her, runs into the CEO of her company, Kang Tae-moo (Ahn Hyo-seop). The last 8 episodes recorded a nationwide audience rating of 10.8% according to Nielsen Korea, a ratings research company, and are loved by Netflix, ranking first in non-English languages.
Twenty-five and Twenty One are being aired on tvN and are being serviced by OTT TV and Netflix. It reached #2 on Netflix. Starring Kim Tae-ri, Nam Joo-hyuk, Bona, Choi Hyun-wook, and Lee Ju-myeong. It is a youth drama depicting the wanderings and growth of young people who have lost their dreams to the times in 1998, during the currency crisis, also known as the IMF crisis.
The Boy Judge is a Netflix original series. It tells the story of Shim Eun-seok (Kim Hye-soo), a judge who hates juvenile criminals, and the juvenile crimes she encounters when she is appointed to the juvenile department of the district court. It was highly praised for depicting the story of a young boy who commits a violent crime, and took fourth place.
Another Netflix Original Series Now Our School is also doing well. Since it was released on January 28, it has been loved and ranked 5th. It tells the story of those isolated in a high school where a zombie virus has spread and those who try to save them, going through an extreme situation where they can't figure out what's ahead.
JTBC's two dramas are also making good records. People of the Meteorological Agency, starring Park Min-young and Song Kang, is a work romance drama that depicts the work and love of the Meteorological Agency, hotter than a tropical night and more unpredictable than local heavy rain. Thirty and Nine stars Son Ye-Jin, Jeon Mi-Do, and Kim Ji-Hyeon as the main characters, and deals with the deep story of friendship, love, and life of three friends who are about to turn forty. It settled in the top 10 and has been consistently recording good results since its release.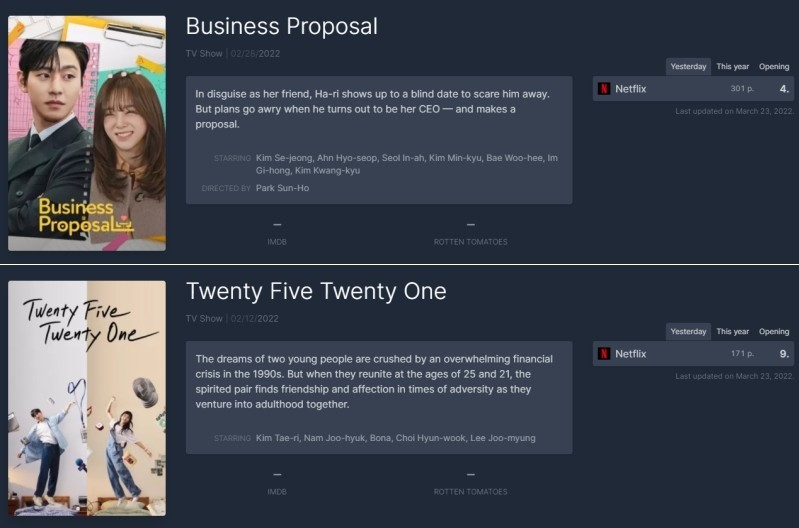 Meanwhile, the in-house match ranked 4th (301 points) in the world's top TV shows the day before on FlixPatrol, another OTT ranking site. In the US rankings, it was also ranked 8th and attracted attention. On the same chart, twenty-five twenty-one was ranked ninth (171 points).
Reporter Seo Hee-won, Electronic Newspaper Internet ([email protected])