The Ministry of Land, Infrastructure and Transport announced on the 10th that it would voluntarily take corrective action (recall) after discovering manufacturing defects in 732,610 units of a total of 8 models manufactured, imported, or sold by Hyundai Motor Company, Kia Motors, and Stellantis Korea.
272,226 units of three models, including Tucson and Sorento, manufactured and sold by Hyundai Motor Company and Kia Motors, were found to be at risk of fire due to damage to the connection and electrical wiring if the temperature was excessively high due to the lack of heat resistance at the connection of the electric auxiliary heater.
The vehicle can be repaired free of charge at Hyundai Motor's direct service centers, Blue Hands, and Kia service centers from the 11th. After inspection, parts replacement and software (SW) update are performed.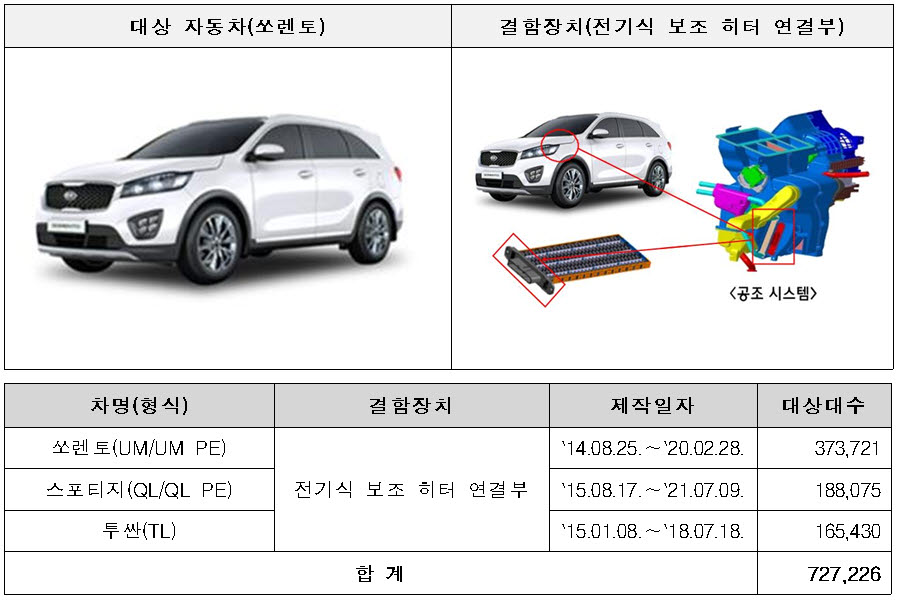 For the 4883 Soul, produced and sold by Kia, it was confirmed that the airbag did not deploy in the event of a crash due to a SW design error in the airbag control device, which could injure occupants.
As a result of a self-certification conformity study conducted by the Korea Transportation Safety Authority Automobile Safety Research Institute, the 280 carnival cars were found to be inconsistent with safety standards due to poor welding of the lower frame of the left seat in the third row and insufficient attachment strength of the seat belts in the third row left and center. The production company will first carry out a voluntary recall, and the Ministry of Land, Infrastructure and Transport plans to impose a fine in consideration of the correction rate in the future.
The vehicle will be able to receive replacement parts and software updates from the Kia service center for free from the 11th.
It was found that 221 units of three models, including the Peugeot e-208 Electric, imported and sold by Stellantis Korea, were at risk of shutting off the engine while driving because the electricity supply was cut off even when the electricity supply was not cut due to an error in the vehicle control system SW design. From the 11th, the Stellantis Korea official service center will update the software for free.
In relation to this defect, the manufacturer must notify the car owner of the corrective action method by mail or mobile phone text message. If the car owner repairs the defect at his own expense before correcting the defect, he or she can apply for compensation for the repair cost to the manufacturer.
By Park Jin-hyeong, staff reporter [email protected]