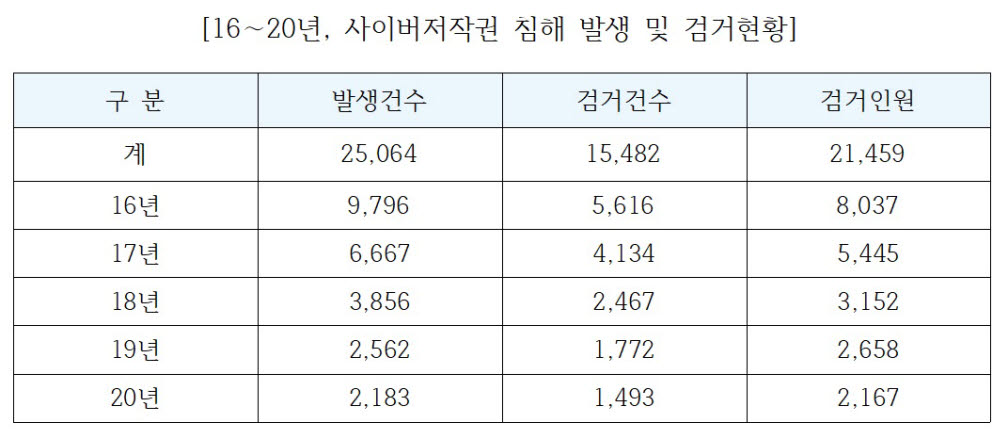 In the past five years, 25,064 cases of illegal content such as movies and webtoons were discovered.
This is the result of analysis by Chung Cheong-rae, a member of the Culture, Sports and Tourism Committee (with the Democratic Party), who received data from the Korea Creative Content Agency, the Korea Copyright Protection Agency, and the National Police Agency.
It was confirmed that even the number of illegal content distribution sites, such as 'torrent', 'movie/broadcast replay', and 'webtoon/web novel free viewing', which are still moving IPs, were not properly grasped.
When looking at the number of illegal downloads detected by year, the number of cyber copyright infringement cases was 77.7% (9796 → 2183), and the number of arrests and number of arrests was 73.4% (5616 → 1493), 73% (8037 → 2167), respectively. It seems that piracy and distribution are on the decline.
However, there is no fundamental solution as it is virtually impossible to detect because even the status of illegal sites moving frequently with IP abroad is not properly understood.
As proof of this, works that have recently been screened and aired such as 'Squid Game', 'D P', and 'Mogadishu' are uploaded to illegal torrent sites where downloads are currently active.
Webtoons and web novels are illegally viewed for free on websites with works that require payment to be viewed. If you search for 'free replay' or 'torrent ranking' on the website, the illegal sites with the most upload data are listed from 1st to 10th, so you can see that there is virtually no management at all.
"K-content is attracting attention from the world every day, and it is showing the most remarkable growth among domestic industries," said Rep. Jeong Cheong-rae.
He said, "The Ministry of Culture, Sports and Tourism, the Korea Creative Content Agency, and the Korea Copyright Protection Agency have created a dedicated department to find a way to block the IP of illegal sites that have spread abroad, and to eradicate illegal content distribution by increasing the level of punishment for illegal copying and distribution. We need to come up with a fundamental solution for this," he said.
By Ahn Ho-cheon, staff reporter [email protected]
.